Not exactly your Good Friday message, but if the first stages of a Jewish Holocaust are underway the story should be told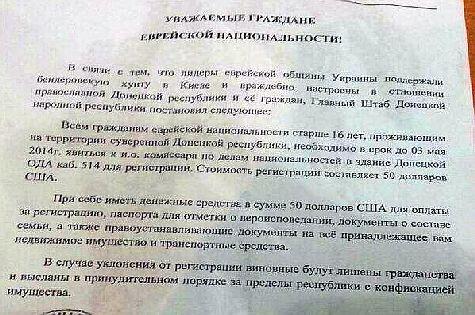 JEWS IN DONETSK FACING DEMANDS TO 'REGISTER'
The Ukrainian Joke is on! (but it's not funny)
Reading the BBC report on the Ukrainian situation is roughly equivalent to the stance you'd expect from CNN or Reuters. They bend over backwards to be 'fair and balanced' as another network puts it instead in this case its equal time split between relative truth and outright propaganda as competing ideals.
The BBC Website reported: "Following the Geneva talks, Russian Foreign Minister Sergei Lavrov, Ukraine's Foreign Minister Andriy Deshchytsia, US Secretary of State John Kerry and EU foreign policy chief Catherine Ashton said there was agreement that all illegal military formations in Ukraine must be dissolved, and that everyone occupying buildings must be disarmed and leave them."
I don't think we can be sure of anything at this point
- Obama - who has no idea what to do
Everyone assumes that 'everyone occupying buildings' means that pro-Russian militants, widely understood to be agents of Moscow, must disarm. But the Russians who have lied at every step of the situation intend to give themselves plenty of wiggle room to re-interpret scenarios at a later date.
The BBC then says: "They added that there would be an amnesty for all anti-government protesters under the agreement, and talk of "inclusivity" - possibly a suggestion that Russian-speaking areas of Ukraine might be granted more autonomy."
Well right there score one for Moscow. Regardless of the sovereign rights of the Ukraine, international negotiators have decided that in order to stop the violence there needs to be autonomy for Russian speaking areas. Meanwhile Russian agents that served as instigators can walk free.
The position of the likes of John Kerry (Lurch) and Catherine Ashton is that the violence must be stopped no matter how much of a victory you hand to those that started it in the first place. This sends a message around the globe that anyone is there for the taking, just start some trouble and the US and EU will give you half of what you stole after the smoke clears.
Completely under-reported in the wild chain of events is the anti-Semitic activity of the Russian forces. Jews in eastern Ukraine received notices from pro-Moscow forces in Donetsk demanding that they register themselves as Jewish. These notices, not surprisingly, have caused alarm in the Jewish community, although the BBC says their authenticity has not yet been verified.
This seems to have escaped President Barack Obama – certified political genius – who stated: "I don't think we can be sure of anything at this point. We have put in place additional consequences that we can impose on the Russians if we do not see actual improvement of the situation."
Brilliant! The Russians are playing Obama just like the Iranians do! They both know that America will do no more than economic sanctions and international name-calling so their only decision is whether the gain is worth the sanctions. Besides, the Russians no doubt plan on making good later on, without giving up any of their land grab.
A Nebraska elementary school recently put out a much derided nine point plan on how children should deal with bullies. The authors must be the same people who advise the President how to deal with Vladimir Putin.
Rule 4 for example says not to defend yourself against a bully since you only do this with enemies! Apparently bullies like Putin do not fall into the category of enemies since they were only bullying and not, well, invading or annexing anything like that.
Meanwhile Rule 8 says not be a sore loser and to 'lose gracefully'. This is how liberals think you deal with abuse in school and how America's national leaders think you deal with it on the world stage. Losing gracefully, in their minds, will lead to an epiphany whereby the abuser (I mean the bully) comes to understand the error of their ways.
Perhaps it's seen in a lefty sought of Biblical way? After all Jesus was crucified while turning the other cheek but unlike with God there is no gain for mankind if any of us give our lives to an aggressor for nothing.
All the while we see the 1930's repeating themselves. State by state Hitler pushed Nazi Germany to occupy and reclassify with the immediate promise that things had gone far enough – 'just allow this and we'll be done'. Until the next move!
Even the move against the Jewish peoples is once again underway. Yet it seems the Western governments have lost sight of both who God's people are and of what has happened historically, unable to believe that it could happen again.
Lurch meanwhile according to the BBC described the talks as "a good day's work", but said words had to be turned into actions and that he would have no choice but to impose tougher sanctions on Russia if Moscow failed to demonstrate that it was serious about lowering tensions in Ukraine.
Russia is solely responsible for the tensions in Ukraine in the first place. Anything other than complete reversal with compensation is ceding ground to hostile actions which will only bring forth more of the same. Kerry seems oblivious to the fact that proven liars have given him assurances and is content to claim a win based on their allusions to peace.
Sadly it seems that there is nobody on the horizon to stop the atrocities this time around. At best, the efforts of Western nations may delay the chain of events. But the world must come to a realization that history can repeat itself.