UK school teachers should include lesbian, gay, bisexual and transsexual role-plays in teaching sexual health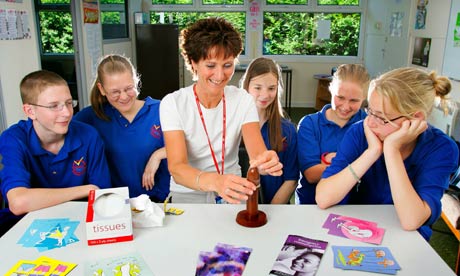 A SCHOOL NURSE GIVES ADVICE TO YEAR 10 STUDENTS (AGE 14-15)

Brits propose Gay role-play for school sex-ed
by David C Jennings - published at Canada Free Press
UK school teachers should include lesbian, gay, bisexual and transsexual role-plays in their teaching of sexual health, according to new sex education guidance. Not only should teachers have to give lessons on sexuality but it should include role-playing.
According to the Christian Institute the guidance was drawn up by the Sex Education Forum and the PSHE (Personal, Social and Health Education) Association alongside Brook – a sexual health charity. Implementation is not mandatory but the format is provided if schools decide to engage in the subject.
"All sexual health information should include LGBT people in case studies, scenarios and role-plays. Boys and girls can explore topics from a different gender's point of view - something for everyone."
These groups want to make Sex and Relationship education (SRE) mandatory in schools with no parental opt out for those age 15+. The guidance states that teachers should "never assume that all intimate relationships are between opposite sexes". The alarming 'guidance' continues with "All sexual health information should be inclusive and should include LGBT people in case studies, scenarios and role-plays. Boys and girls can explore topics from a different gender's point of view, and a variety of activities – including practical tasks, discussions, group activities and competitions – can provide something for everyone."
The Family Education Trust hit back saying the guidance lacked reference to morality, marriage, or family life and commented that it is "devoid of a coherent moral framework". Norman Wells, Trust Director said that while the prevalence of pornography "presents enormous challenges", the document's approach "is bound to do more harm than good; As a guide for schools designed to protect pupils and promote optimal sexual health, this advice is simply not fit for purpose".
PSHE Association have backed a Telegraph campaign for 'modernisation' made under its broader 'wonder women' campaign. The normally sensible Daily Telegraph has, in this case, taken an overdose of political correctness.
Last year The Christian Institute criticised the groups supporting the campaign, saying some of them "have a track record of pushing a liberal agenda and sidelining parents". That only underscores the broader problem of Sex. Ed. in schools in the first place.
Conservatives tend to believe that this belongs in the home and maybe the church. Liberals, lefties and progressives tend to believe that anything they think of, particularly concerning your kids, is the domain of government since the rest of us are too stupid to handle it ourselves.
Hence when sex ed. is taught in school it is designed by liberals since conservatives and Christians wouldn't purposefully design such a thing. Subsequently, only a progressive and atheist concept is ever presented.
The House of Lords voted down a Labour proposal in January by the wide margin of 209-142 but progressives in the Conservative – Lib. Dem. government coalition seem determined to push something through, and their opposition colleagues appear to be right on board.
Baroness Eaton, who disagreed with the proposals said that she felt "very strongly that parental involvement should exist", while Lord Northbourne added: "Not all relationships are about sex and the ongoing and nurturing relationships between both parents and the child are crucially important". Conservative Baroness Knight of Collingtree added that she was "appalled" to find that, "children as young as four were being told in sex education how to perform the sex act".
But Deputy Prime Minister Nick Clegg, said: "It is vital that we safeguard the health and wellbeing of our young people to help them get on in life. We need all schools teaching sex and relationships education that is absolutely up to date, particularly when teenagers' lives are so dominated by advances in technology."
The British shouldn't trust a government that sees itself as the solution to every social ill. Yet this is the disdain that the three mainstream parties in the UK hold for the people. Theirs is a constant attitude of 'father knows best'; except that in this case the grownups are being denied the right to exercise judgment by belligerent adolescents.
According to the Telegraph, the document says teachers should give lessons about the impact of pornography and talk to pupils when their use of explicit images becomes "compulsive". And it then continues:
"It is helpful to address the issues surrounding pornography and there is widespread support from parents who recognise the need for this. Teaching should emphasise that pornography is not the best way to learn about sex because it does not reflect real life, and can therefore be worrying, confusing and frightening for young people. Some young people may be concerned that their use of pornography is becoming compulsive – teachers should recommend talking about this to a trusted, non-judgmental adult."
In actuality teachers should not be put in the position of being social commentators when it comes to the vices of teenagers. Referring a child who approaches a teacher for help is one thing, but the government should be more concerned that those parents either don't know how to do their job or that the said government is preventing the said parents from doing it themselves.